Talking about Houses and Homes
In many ways modern living styles are much the same in Australia as they are in Japan. But there are some differences in the types of homes. Because the ratio of people to land space is much smaller in Australia, most people live in single storey houses on rather large blocks of land. High rise apartments are very much exceptional.
Talking about My House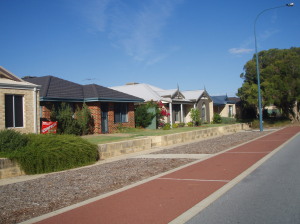 My House is second on the left.
I live in a one storey house with my wife and our dog. It is a medium size Australian house. Some Australian houses are much bigger; other houses are smaller.
My house has three bedrooms, two living areas and two bathrooms.
When you enter my house from the front door, you walk straight into the first living area. We call this the lounge. In the lounge there is a settee; bookshelves and a hifi system.
On the left hand side of the lounge, is the main bedroom. It has a walk-in bathroom and toilet. We call this an ensuite. The main bedroom also has a walk-in clothes closet.
If you walk down our hallway you'll enter the front part of our house. On the left is the kitchen; while on the right is the main bathroom; laundry and toilet.
Straight in front of the kitchen, is the main living area. Here we have another settee; dining table and chairs; a television and another hifi system. Our living area has large windows which allows the sun to shine inside. This is very nice and comfortable in the winter.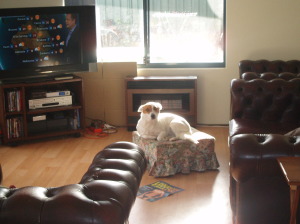 Charlie the Dog!
On the right hand side are the two other bedrooms. One bedroom is used by me as an office or study. It has a computer and many books! The other bedroom is used by my daughters when they stay at our house. Sometimes guests sleep in this bedroom.
Outside my house is a garden; a garage and a barbecue area.
House Layout
MORE LANGUAGE ABOUT HOMES
Rooms and Areas
hallway; foyer
dining room – living room – home theatre
bedroom
kitchen
utility room – laundry; bathroom
toilet
garage
attic
basement
computer room – office
garden
furniture; utilities; equipment
furniture – table; chair; bookshelf
utilities – fridge; oven; washing machine
equipment – computer; television; hifi
More vocabulary
upstairs; downstairs; next to; opposite; to the left; to the right; on the right hand side; on the left hand side
Questions about homes
Where do I study or use a computer?
Living room – Theatre room
where do we watch tv?
What utilities do we have?
Do you have an oven?
What type of cooker do you have?
What type of heater do you have?
What do you do in your house?
Statements about homes
I live in a/an
house/ flat/ apartment/ condominium/ mansion
apato/ manshyon
We always …….
We usually ……..
Sometimes we ……..
My mother ………
My father ………
My brother ………
I love my home
Things we do there:
live/ eat/ sleep/ watch/ study/ cook/ wash/ entertain/