Japan Visit April – May 2018
Thanks to my good friends in Japan including Kazunori and Fumiko, Tasuku and Emi; Masako,
as well as Katsu and Tomoko, I had a really enjoyable visit to the Tokyo area and Kanazawa.
Below are some of the photos from that visit.
Kanazawa
Denver with the Oda family at Twin Motegi Theme Park
I spent a family Sunday with Kazunori, Fumiko, Masatake and Mizuki at Twin Ring Motegi Racing Theme Park. It was a fine day weather-wise and we really enjoyed ourselves in spite of the large Golden Week crowds of people. I even found myself playing racing car driver with Masatake as co-driver. Certainly the first time I've ever been on a racing circuit! The drive through the Tochigi countryside was also really nice. Anyway, here are a few photos.
Italian Restaurant Yashio, Saitama with the Oda Family
Kamakura
The Bamboo Gardens
Tsujido Kanagawa
Delicious kushiage at an Izakaya
Endo, Kanagawa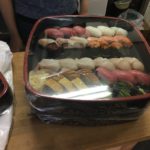 watching an expert sushi chef!
Tsudijo Station Izakaya
with Emi and her family
With Tomoko and Katsunori
Lunch
Minka-en Folk Village